Farewelling the sun-drenched tropics of Byron Bay for the city life of Sydney some four years ago, lead singer Hayley Mary and pianist Heather Shannon of The Jezabels have certainly come a long way from playing quiet acoustic sets at open mic nights. Joined by drummer Nik Kaloper and guitarist Sam Lockwood, The Jezabels are certainly the talk of the media vanguard at present. Presenting a treasure trove of heartfelt, barely restrained tension and muscle, treatises on their latest EP 'She's So Hard' have already been well chronicled by the likes of Mess+Noise and FasterLouder, while the best of Australia's broadsheet critics have also fallen for their undulating offerings. Touching base from Ballarat hours before they're due to play Groovin The Moo festival, Heather spoke with Side Street, Sydney.

So, Jezabels. What's in a name? Feel free to post rationalise!
What is in a name? Jezebel was a persecuted woman in the Bible. We don't really relate to that… or do we?
A strange question perhaps, but why are you making music? Is it an inner imperative?
I'd say that it is definitely an inner imperative for all of us. I think it's an important part of all of our lives and makes us all more wholesome and happier.
How do you personally look back on your latest EP?
It was a big learning curb for all of us I think. Every time we get into the studio we learn a lot about recording and even about our own music. We are really grateful to be working with Lachlan Mitchell who is also recording our third EP. He's an awesome engineer and producer, and is pretty much the reason we sound any good. (Kidding – I hope…)
I think [the EP] was just a natural musical progression for us, getting to know each other's playing styles better and learning more about where each of us sit within the mix. Because we don't have a bass player and our line-up is not so conventional, it took time to find our places within the band.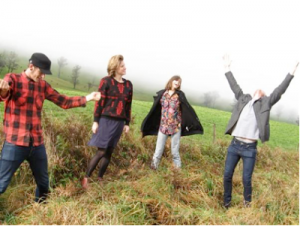 Do you ever encounter that phenomenon where you meet fans who feel like they know you on a personal level because often the songs are so intimate?
On rare occurrences I've spoken to people who have seen us play – they are always really supportive and very down to earth. It's really inspiring when someone comes up to you and says something positive about your music. So, I guess so…
I think that She's So Hard really works front-to-back as a whole EP. In the MP3 era, how important to you is song sequence and the 'whole record' experience?
We have actually decided to record a third EP because we had this idea of doing an EP trilogy. There are many reasons why we are doing this; the money aspect is definitely one reason, but we would also love to do an album one day soon!
Finally, what else have you got on your agenda for the remainder of 2010?
To hopefully have a third EP released – and with that some shows of our own around the country. It would be great to get some more supports on national tours, but we'll see won't we!
The Jezabels are supporting Tegan And Sara this Friday at the Big Top before appearing at Come Together festival over the June long weekend alongside some of the finest musicians Australia currently has on offer. Tickets are still currently available for both shows.