visit our new project!

Walking into the home and workspace of photographers Lyn & Tony, you know immediately that you are in a place where life is looked upon through a different viewfinder than the one held by most of the outside world. Partners in life and creativity for 15 years, the two seem to share a presence that sits quietly between them, but whose energy conspicuously radiates with an irresistible imagination. It is this joint force that is responsible for Lyn and Tony's apparently endless list of creative ventures, which starts in fashion photography and makes its way through branding, creative direction, art, installation and, most recently, accessories design. Devoting equal passion to each project is what has enabled them to pursue (and, unquestionably, succeed) at each endeavour – that and a staunch commitment to the trade in which they happen to be working within at any given moment.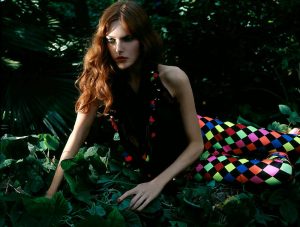 Karen magazine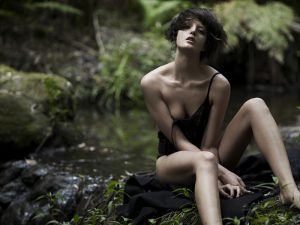 Grand Social
The energy mentioned previously is something that Lyn and Tony ensure is used to its greatest potential. As artistic collaborators at their very core, they have a distinct position on working relationships and their place within a creative project. "We are similar in our ideas and outlook, and the creative process can become all the more beautiful with two sets of eyes," explains Lyn. "Our objective is to create something beautiful as a collective, so we leave our ego out of it. We put our trust in the right people who we know will bring something to it. We're on the same level where all opinions matter. There is no one solution. We love to work with people who have their own head space and who amplify what it is we're doing." Tony concurs: "Casting on a shoot is so important. We don't start with the visual. It is the energy that we're looking for."
"You give and take karma… it's amazing what can happen if you look at the world like that."
Their take on creative relationships has seen them work as long-term collaborators with fellow prominent names in the industry, including Konstantina Mittas, Georg Jensen and Jonathan Zawada, the latter of which they created the iconic Preset's Apocalypso cover album with.
For Trust Fun! by Jonathan Zawada and Shane Sakkeus
Both Lyn and Tony were born and raised near Byron Bay, a place they still visit regularly to seek inspiration and engage their artistic freedom. With a degree in visual communications under her belt, Lyn made the move down to Sydney and snagged a job at a high end fashion magazine before she realised that such an environment would hinder her creativity rather than strengthen it. Similarly, Tony studied environmental science and interior design, but departed the industry when he discovered that even his professors did not know some of the greatest names within their field. The two quickly ventured into their own ideas and soon became known for their exploration of colour, light and texture, and for their passion for the natural environment. This comes through both in their work and in conversation as soon as the talk turns to their reason for staying in Australia.
"We made the decision to not be overseas… Australia has something, a special energy that is hard to explain… We grew up in paradise…" Lyn begins.
"There is a uniqueness to Australia," Tony elaborates. "One of our first international exhibitions was shot near Byron Bay, and everyone overseas thought we had a set made. It really opened our eyes to how unique this environment is… Sometimes, it takes an outside view to be made aware of it. Even living in Sydney, it's this big, international city but is so closely related to nature. Where else in the world can you get that? It gets into your soul."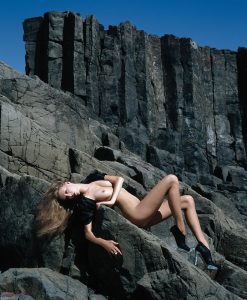 Nico magazine, styled by Maia Liakos
Their close relationship with the natural environment transcends into their photographic philosophy. Instead of spending hours in a digital stratosphere, they use their energy to create authentic images which even the most advanced manipulation couldn't replicate. Their work is the product of fantasies rather than a computer screen, and the best part is that in the literal sense, it is not make believe. It comes from a world that stands on its own – one that Lyn and Tony have chosen to invent for the greater benefit of beauty.
"One of the negatives of digital is that mistakes are corrected and things are not open to chance, and that is the element that makes for a great image. Digital photography is over-planned, so there is a certain editing of a photographer's creativity," says Tony.
"In the past, our greatest moments have been our mistakes – they were the times when we learned the most and sometimes the result was so wrong that we loved it," continues Lyn. "There is an element of freedom when working with film, and there are art directors out there who have no experience with it. If a photographer is never exposed to film, they have no reference point."
Insisting that Australia does not have the budgets to properly retouch digitally produced material, Lyn and Tony do the majority of their work through the analog medium – even that which appears as though its reality is an impossibility. Take the Bertie Blackman cover, for example, which was created entirely on set.
2 by Lyn & Tony accessories
Be it commercial or artistic work, Lyn and Tony approach it all with the same visual language. "We've always done our own thing. It is important for the head space… the last thing we would want to do is compromise our clients," explains Lyn. The latest product of their artistic evolution has been accessories, which, again, have been influenced by the environment Lyn and Tony call home, made of materials such as kangaroo leather and splashed with colours that mark the Australian landscape. But they haven't stopped there – they are working on a plethora of other projects at the moment, including two book ideas that will inevitably see their work immortalised once again. Needless to say, Lyn and Tony are inspired the majority of the time.
"Everywhere we go, we are constantly amazed at the things we see," Tony remarks, in a tone that is on the brink of a daydream. "From getting into someone's head and asking questions to finding the perfect rock…" he trails off.
Lyn nods in agreement. "The universe has given us some amazing moments."
Lyn & Tony
words: Seema Duggal
at 8:48 AM
2 comments
Labels: Bertie Blackman, Goerg Jensen, Jonathan Zawada, Konstantina Mittas, Lyn and Tony, Side Sight, Sydney photographers, Sydney Photography, The Presets
Subscribe to: Post Comments