visit our new project!

Jazz & Sushi, No Crap: Jazushi
Sometimes, all you want to do is sip on some wine, listen to some jazz and eat some uncooked fish. Although all those things sound totally pretentious, you want to do it in an unpretentious way, because YOU'RE not pretentious, you just like pretentious things. Don't worry. WE GET IT. And apparently so does Jazushi, the charming little Surry Hills restaurant which specialises in live jazz, sushi and unpretentiousness.
Sitting rather calmly on a corner on Devonshire Street, the blink-and-you'll-miss-it venue is definitely one that sticks in your memory once you visit, and it's a good thing, too – there's live music every night, not just the ones where it feels like it. Featuring some pretty noteworthy musicians from across the globe, it is one of the only spots in Sydney where you can be guaranteed to hear exactly what you're in the mood for. Um, so long as it's jazz. There are regulars and visiting performers alike, but the one thing they all share is sheer passion to share their sound with an audience, and that can be nice when you've accidentally dolloped a wee bit too much wasabi on your sushi. Nothing like the smooth sound of the saxophone to wash away extreme pain.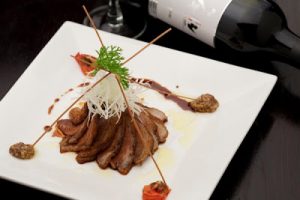 French and Japanese cuisines have gotten married and had tempura-flavoured babies at Jazushi, all of which taste fresh and scrumptious. As far as sushi goes, this joint's got the recipe down packed, which generally means it consists of as little as possible. They do experiment a bit, with things like Camembert Tempura and Nasu Grilled (grilled eggplant steak with tofu, tomato misu and cheese) on the menu, concoctions that sound a little terrifying but ultimately make the word "fusion" synonymous with "yummy". As far as the classic options go, you can't really go wrong with the Sushi or Sashimi sets. They're the perfect light meal for when you've been a pig all week.
Sushi is notoriously not for the skint among us, and Jazushi doesn't defy this rule of cuisine. Except here, you're paying for more than just raw fish – the ambience is simply enchanting. The main room is dimly lit and has a New York jazz feel about it, with records and photos of musicians lining the walls and a space for a lone performer or a three-piece set on the corner. The real gem though is the bamboo terrace upstairs, complete with a garden-like feel and heatlamps for the chilly evenings. It's the perfect place for an engagement party or a happy-to-be-alive party, whichever comes sooner. The only downside is that you can't have live music up there, but Jazushi does have a pretty fine selection of records for you to choose from. If you're intent on looking at someone play, the other function room to the back of the main area allows a small space for a musician or two and is charming enough to suit. Trust me.

Whether you're in it for a catch up with all your friends in one of the big rooms or a quiet night with someone who you can stand to talk to for a few hours in the main dining room, you're going to walk away content. It's impossible not to… I mean, it's sushi and jazz. What a happy combination.
WRITING SERVICES.
We're writers. We know how to make things sound good. We're also, lucky for you, whores. We offer our skills in the form of commercial writing services, so if you or someone you know is looking for a copywriter, please email us. More details about what we do can be found here and here.