Dan Gray
Little Gonzales is a fitting moniker for Sydney artist Dan Gray. He's quiet, charming, and refreshingly, he doesn't seem to take himself the least bit seriously. As a designer, illustrator, painter and animator, Little Gonzales is all about honing in on his creativity and making it look damn good in the process. We spent a cosy Sunday morning getting to know this curious creative with a fondness for retro, music, and ever-so-geeky fun.
The name Little Gonzales comes from Dan's childhood nickname, Speedy Gonzales, and reflects the very strong familial ties that Dan has, particularly with his triplet siblings. One an IT geek and the other a banker, Dan may be the only artist in the family, but all of them have a strong creative bent – after all, appearances can be deceiving. Dan himself started out in medical research, but soon discovered that medicine was not feeding his creative calling. He found himself face-to-face with the conversation most born-again creatives dread with their parents: the one concerning art school and the terror of trying to do anything else with their life. Although initially shocked, his parents were on board soon enough – and now take full advantage of the artist in the family. "Dad has been asking me to put designs that he likes on t-shirts so he can wear them," Dan tells us.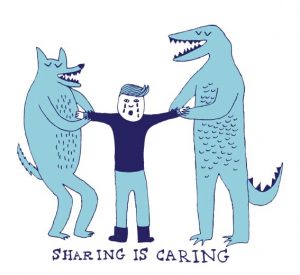 Rather than trying to extract himself from his old life slowly, Dan made a clean break of it by quitting his job and going back to school full-time. As he puts it, the division between his past and present professions gave him the freedom to start fresh and leave a career he wasn't thrilled about behind with minimal time wasted. Determined to forge a living as an artist and still actually pay the bills, Dan has worked hard to build-up interesting clients, participate in challenging exhibitions and maintain strong relationships with other artists. His love of music has fuelled much of this, including an ongoing relationship with Melbourne-musician Old Man River, designing his tour posters, his upcoming album cover and his website. On top of taking part in the annual Finders Keepers market, creating murals, and participating in a variety of other music-fuelled endeavours, he is part of the creative collective The Groop, a think-tank that aims to bring together Sydney's finest creative types for idea-making and inspiration-cultivating. Dan describes his experience in the collective as challenging and interesting: "It has been a learning curve; I've made good friends and interesting contacts. At the moment we're planning a 'faxhibition', where all the artists have to fax their artworks to us."

The Little Gonzales style has a joyful humour about it. It is immediately easy to see that Dan is a naturally happy person, and his work reflects that, including but not limited to impressions of dancing wolves, bare-chested Mexican wrestlers, brilliant blue tooth-monsters and the odd bowl of ramen noodles. There's a childhood dreamlike quality to many pieces, which Dan can consciously reflect upon.
"A lot of the work I do has been influenced by the cartoons I watched when I was young. Like Japanese anime and He-Man and that sort of cheesy stuff from the eighties," he explains.
The sense of humour and understanding that only siblings can share is also a big influence, if less immediately obvious to the observer: "My brothers and sisters inspire me and they've got a similar weird sense of humour and they like the same sort of weird things. My brother will post some really weird Whitney Houston film clip on my Facebook page and I know exactly what it's about."
Dan's approach to work reflects his easy-going nature, and his natural curiosity.
"Usually something just pops into my head, maybe just an image of something strange, and I have to draw it to really see what it looks like."
His inquisitiveness is also the driving force behind his technical skills: "Most of the stuff I do with my art is because I've seen an artist and thought that [his or her work] looks really great and I want to know how to do that." From simple pencil on paper to pen on wood, elaborate screen-printing and even dabbling in flash animation, Dan employs a wide range of skills which keep him interested and enable him to move forward with his artistic progression.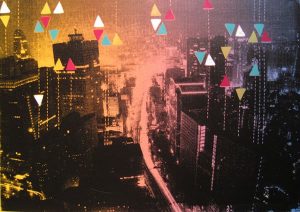 From this Friday to Sunday, Little Gonzales is participating in a group exhibition called "This Little Piggy," which sounds either like a piece of meat, an evil flu or drops of coins, depending on how you look at it. Among those in the show are Rebecca Murphy & Caitlin Shearer. Good times. Oink.
The exhibition will be held at China Heights Gallery, Level 3, 16-28 Foster Street, Surry Hills.