visit our new project!

As a relatively new label to hit the Sydney scene, Strummer's latest offering makes it appear as though it's been in the fashion game for years. Needless to say, the brand is swiftly gaining momentum in its design and production, and we can't seem to get enough of its feminine, youthful and fresh take on style. It's actually been grabbing our attention from the very start, and not just because the ladies behind it are as sweet and down to earth as they just so happen to be, either. The clothes evoke a sense of ease, making it seem as though fashion sometimes has the power to make even our worst days a little brighter.
Strummer's Spring Summer 2009/10 collection has us aching even more for the lazy beachside days and balmy cocktail evenings that this impatient month ingrains in us. The look book is a mirror of Sydney's best sunny style, fusing elegance, class and a simple colour palette with the most delicately charming details – doilies, pleating and playful collars among them. Perhaps one of the most noticeable parts of the brand is that it's clearly not swayed by hasty trends – you can tell that its beat of the drum isn't exactly trying to keep up with the rest of the fashion band, and this inimitability is undeniably refreshing. After all, we've seen enough Balmain jackets, thankyouverymuch.
Side Street, Sydney chats to the brainchildren behind Strummer, Edwina Hagon and Gina Cole, about where they've been, where they are and where they're going.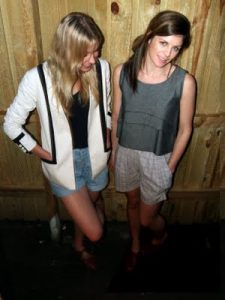 Hello ladies! So, what spun on your desire to start a label?
Edwina: I've always loved fashion. I love, love, love clothes, and I really like that you can create a mood with what you wear and I am interested in the subtlety in detail and design.
I noticed growing up that I would always remember what my friends had worn to a particular party. Even years later, I would remember their entire outfit from head to toe. So I guess clothes were always what caught my eye and what I really took in.
Gina: The lead up to Strummer has been a life long journey. It's something I have wanted to do ever since I can remember and I can safely say that everything I have done in life has all been in preparation.

How did the two of you meet and how did the process of creating a label together begin?
Edwina: Gina and I met working at another Sydney label and got along really well – we liked the same music and had a very similar aesthetic with clothes and style in general. I hadn't met anyone that I had thought I could design with before, but I could tell that Gina and I could make some really cool stuff together. We became friends and two or so months later we were already working on designs and getting things rolling.
What were each of you doing before this?
Edwina: I studied Fashion at TAFE after I had travelled for a year. Before that, I completed a Business Degree at UTS, so I felt like I had been studying forever and was super keen to get started in the industry.
Gina: I started working in the industry as soon as I finished school. After a few years, I took a year off to travel the world. When I came back, I went and studied fashion design at East Sydney TAFE, and then completed advanced pattern making as well. I eventually landed two great roles in two different leading Australian fashion houses where I worked with some really talented people.

Is Strummer your full-time job now? If not, what else are you doing on the side?
Edwina: Yep, pretty much. I do the occasional styling job but I mainly work on Strummer.
Gina: Yes, full time, all the time. However, I somehow manage to find time to do other things, like freelance pattern making/sewing and fashion consulting. I also spend a little bit of time at a fashion company.
Why did you want to create Strummer?
Edwina:Freedom! Having complete freedom over our ideas and adhering to no limits. We feel so blessed that we get to exercise our creative urges, and it is so amazing to see the full cycle – from scratchy designs on paper to the actual garment hanging in our studio… or better, in a really gorgeous boutique.
Gina: As Edwina says, freedom! However, it is also a calculated and in-depth process, so over analayse every design to ensure that the finished product ticks all the boxes in our Strummer check list.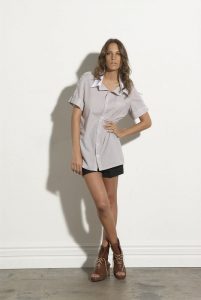 You are still relative babies on the fashion scene. How has the ride been so far?
Edwina:It has been a really fast and fun ride so far. We are so happy to be stocked nationwide in such gorgeous stores, and we are grateful for all the support we have received from the boutiques that take a chance on new labels.
Gina: It's just the beginning of our journey and we're both just ecstatic with what the two of us have achieved so far. There is a lot of behind the scenes work, and we have been working really hard to get where we are. We are starting to get noticed and our hard work is paying off.
What have been some of the most difficult parts about starting out?
It is just the two of us and we are doing all of it ourselves, which is hard but as it becomes a well-run business, it's rewarding to know we have accomplished it all on our own. It is also difficult to initially get your name out there and to gain trust. Your success relies upon these factors – but it is so amazing when stores share your vision and support the brand.
Finally, there are many sacrifices that are made straight away when starting up a brand. All of your spare time dissolves, so I guess it becomes a juggling act to manage time with our family, friends and ourselves.

What have been the best parts about starting out?
When we started out we had absolutely nothing to lose. It has been interesting to learn our own limits – what we are capable of achieving and how hard we are able to work when we really love what we do. The most exciting part is completing the first shoot of a season and seeing it all come together. It is incredibly rewarding.
What have been some of the biggest achievements since you launched?
Being stocked in over 20 stores around Australia and 3 internationally!
It's also been great to gain media interest. For example, there was a write-up in Refinery 29 and the Teen Vogue New York office was fussing over us!

What do you hope to achieve in the future?
We are keen to grow globally and do fashion week.
We would also love to get some more editorial – it is so fun to see Strummer in the magazines and online.
One day it would also be great to have a Strummer store – we'd even be happy with a hole in the wall!
What has been the most surprising thing about the industry since you started?
Ever since we started Strummer the world has pretty much been in recession, so to start in such an unknown time and have such success and exposure with retailers has really surprised us.
And finally, how do you each unwind after a collection?
We usually work 7 days a week so it is pretty exciting to have a weekend free. We go away to Macmasters beach and start thinking about the upcoming collection with good food, wine and a deck of cards.
words: Seema Duggal
Labels: Seema Duggal, Side Style
Subscribe to: Post Comments